Friday August 17th, 2001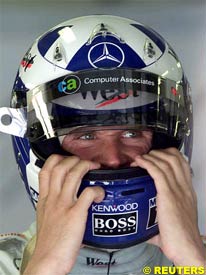 Michael Schumacher topped the timesheets in first free practice as McLaren rival David Coulthard brought the session to a halt on Friday after hitting a kerb and scattering debris across the track.
The Scot, whose almost extinguished Championship hopes could be finally snuffed out by Ferrari's Schumacher on Sunday, smashed his rear diffuser with five minutes of the hour to run. The practice was then stopped to clear the track and retrieve Coulthard's stranded car.
Schumacher, who could secure his fourth Formula One world title this weekend with a record-equalling 51st win, and Brazilian teammate Rubens Barrichello dominated the timesheets. Schumacher was fastest in 1:16.995 ahead of Barrichello in 1:17.290 and the McLarens of Mika Hakkinen and Coulthard in 1:17.606 and 1:18.182 respectively.
The times compared to Schumacher's 2000 pole of 1:17.514.
France's Jean Alesi earlier provided one of the highlights, or low points for team owner Eddie Jordan, when he dumped his car in the gravel after just four laps of his competitive debut with Jordan. Alesi skidded at turn 13 of the tight and twisting Hungaroring and slid backwards into the gravel trap with just 17 minutes gone.
The 37-year-old, who moved from Prost to replace the sacked German Heinz-Harald Frentzen, climbed out of the car and removed his helmet before walking back to the Jordan pits in the searing heat. Frentzen, who has moved to Prost for the last five races, made the most of his first real drive in the Ferrari-powered car by lapping faster than Brazilian teammate Luciano Burti and Alesi.
The German's time of 1:21.540 compared to Burti's 1:21.986 and Alesi's 1:21.590.
Pos  Driver        Team                    Times                 
 1.  M.Schumacher  Ferrari            (B)  1:16.995  185.856 km/h
 2.  Barrichello   Ferrari            (B)  1:17.290    +    0.295
 3.  Hakkinen      Mclaren Mercedes   (B)  1:17.606    +    0.611
 4.  Coulthard     Mclaren Mercedes   (B)  1:18.182    +    1.187
 5.  R.Schumacher  Williams BMW       (M)  1:18.456    +    1.461
 6.  Heidfeld      Sauber Petronas    (B)  1:18.851    +    1.856
 7.  Trulli        Jordan Honda       (B)  1:19.430    +    2.435
 8.  Panis         BAR Honda          (B)  1:19.460    +    2.465
 9.  Villeneuve    BAR Honda          (B)  1:19.707    +    2.712
10.  Raikkonen     Sauber Petronas    (B)  1:19.971    +    2.976
11.  Irvine        Jaguar Cosworth    (M)  1:19.996    +    3.001
12.  Fisichella    Benetton Renault   (M)  1:20.308    +    3.313
13.  Verstappen    Arrows Asiatech    (B)  1:20.706    +    3.711
14.  Button        Benetton Renault   (M)  1:20.935    +    3.940
15.  de la Rosa    Jaguar Cosworth    (M)  1:21.204    +    4.209
16.  Montoya       Williams BMW       (M)  1:21.211    +    4.216
17.  Bernoldi      Arrows Asiatech    (B)  1:21.324    +    4.329
18.  Frentzen      Prost Acer         (M)  1:21.540    +    4.545
19.  Alesi         Jordan Honda       (B)  1:21.590    +    4.595
20.  Burti         Prost Acer         (M)  1:21.986    +    4.991
21.  Alonso        Minardi European   (M)  1:22.215    +    5.220
22.  Marques       Minardi European   (M)  1:22.748    +    5.753

All Timing Unofficial

Published at 10:08:25 GMT
---